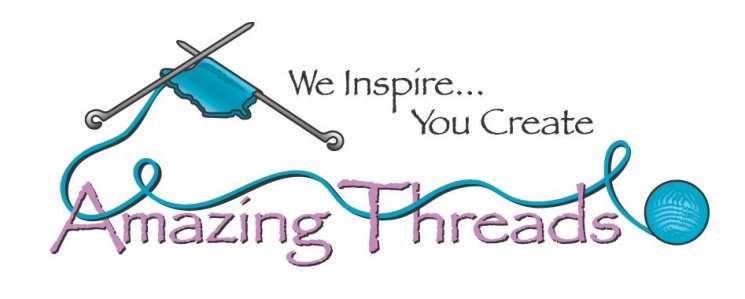 Last week we began to introduce you to the new owners, Stephanie & Derek Grygiel.
We will continue to share more about us, but this week we wanted to focus on all the excitement happening in the store as we prepare for Shop Hop on Thursday!!! :)

----------------

Gnomey and his sheep friend are ready to dive in as we prepare to go Under the Sea for the Minnesota Yarn Shop Hop!
Mark your calendars as Shop Hop is THIS WEEK!
Join us "Under the Sea" starting this Thursday from April 13th-16th for the 2023 Minnesota Yarn Shop Hop as we are inspired by Jellyfish!
Help us celebrate our love of yarn and support our local food shelves! Check out the Shop Hop webpage for information on participants, maps, and more! Print out your drawing entry slips HERE and fill them out ahead of time to drop and go as you visit each shop!

There is still time to get your passports! Stop by the shop and provide a $50 donation to CROSS to get your Passport, EZ Pass Sticker, and folder.
-------------------
April 29th is Local Yarn Store Day! We participate in national LYS day every year and can't wait for all the fun things we have in store! Be sure to save the date! We hope you join us in celebrating your favorite LYS!



We've restocked Baah La Jolla! Grab some beautiful tonals and variegated skeins while supplies last!


Another restock is out - Cascade Fixation is the perfect yarn for baby hats and booties! We have lots of great patterns free with purchase of yarn!




Part of our Illimani Sabri order arrived and we couldn't wait to get it out on the shelf! Look at those beautiful neutrals! The other half of our order should arrive soon and then these will also be available on our website. For now, stop in the shop or give us a call to grab your favorites!



Our customer Gavin, who just started shopping with us last month, already finished a crocheted kids blanket for his niece in Plymouth Encore! He made his own pattern using the linen stitch for the body of the blanket and a camel stitch for the border. Great work!




Cyndi is busy working on her latest project out of Mode at Rowan Collection 8. She is using Rowan Summerlite DK for the perfect warm weather garment!



The next Learn to Knit class begins in May!
Friday Night Stitching
is on the schedule for April 21st! Join Stephanie & Derek for a fun night with friends! Reserve your spot today! Only 3 spots remain!
Stephanie is teaching the Bynx Cowl class beginning on May 6th!




Suzanne will be teaching the
Nordiska Sweater
class beginning May 10th.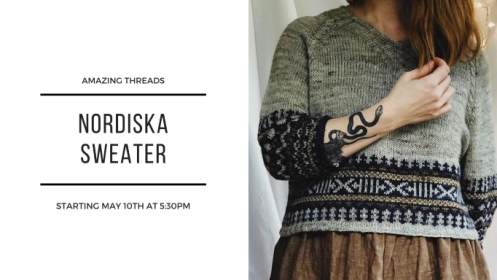 REGISTER FOR CLASSES HERE
W
e have social stitching every week on Tuesdays, both in the morning and evening. Join us Tuesday mornings from 11:00AM-1:00PM or Tuesday nights from 5:00PM-7:00PM. Free with Knit Club membership!
---

Like Us

763-391-7700




11262 86th Avenue North




Maple Grove, MN 55369