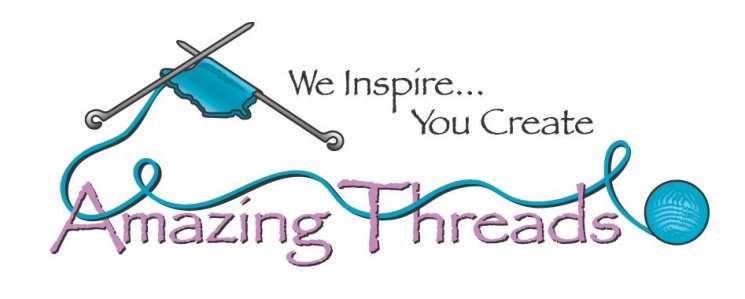 How much FUN did we have this weekend!?! Thank you to everyone that stopped by and supported us! We are so grateful to each and every one of you! Shop Hop was so much fun and we hope you all enjoyed this year's theme!




Our knit project is the Crescent Waves shawl designed by Heather. It uses two skeins of Amazing Threads Simply Sport.




Our crochet pattern is the High Tide Texting Gloves designed by Cassie. This uses one skein of Amazing Threads Simply Sport!




We still have kits available and are currently taking preorders of our 2023 shop hop colorway "Caribbean Bay." Don't forget to hop on Ravelry and use your shop hop pattern codes - codes valid through Sunday!




April 29th is Local Yarn Store Day! We participate in national LYS day every year and can't wait for all the fun things we have in store! Be sure to save the date! We hope you join us in celebrating your favorite LYS!

We have several new kits available:

The Nightfall Shawl Kit using four skeins of Amazing Threads Simply Sport!




The Coral Reef Wrap using Pascuali Balayage and Rowan Kidsilk Haze.




Andrea Mowry just released a new pattern today! The Traveler is a cropped pullover hoodie with a crewneck modification option.


This pattern is knit in Sport weight! Amazing Threads Simply Sport would be the perfect option! We restocked just in time for shop hop so sweater quantities are still available!


Another great option in Sport would be Primrose Roan Sport. You will love this unique blend of superwash and non-superwash!



Cyndi has been working on the Napkin Beanie hat using Illimani Sabri the main color and Baah La Jolla for the flowers. So pretty!

The next Learn to Knit class begins in May!
Stephanie is teaching the Bynx Cowl class beginning on May 6th!




Suzanne will be teaching the
Nordiska Sweater
class beginning May 10th. The restock of Illimani Sabri would be a perfect cotton yarn option for this sweater!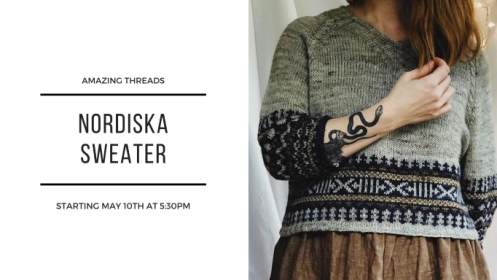 REGISTER FOR CLASSES HERE
W
e have social stitching every week on Tuesdays, both in the morning and evening. Join us Tuesday mornings from 11:00AM-1:00PM or Tuesday nights from 5:00PM-7:00PM. Free with Knit Club membership!
---

The Cherry Summer Top is crocheted in DK weight. Grab some Rowan Summerlite DK for some cotton-y goodness!
The Perfect Newborn Socks are just the sweetest pattern for your next baby knit! Use up some fingering weight leftovers in your stash and make the perfect gift.




The Sunflower Applique is a fun crochet pattern to get us all in the mood for warmer weather. Grab some scrap yarn or some Aran weight and make a few flowers.




Panopeia is a lovely knit top using fingering weight yarn. Consider Illimani Sabri that we recently restocked for a summer cotton top.


Like Us

763-391-7700




11262 86th Avenue North




Maple Grove, MN 55369