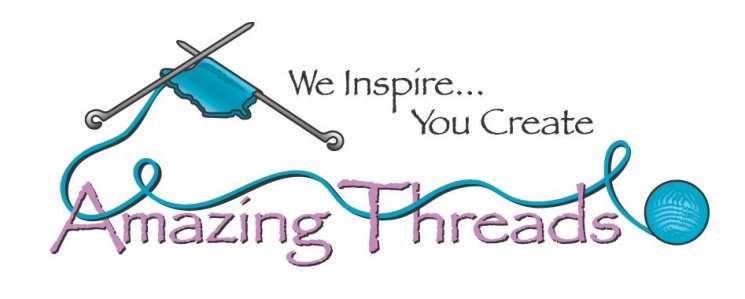 Friday Night Stitching last week was a blast! We had a full house! Thank you to everyone that joined us, especially our new friends! We hope to see you next month on May 19th!




This Saturday, April 29th is Local Yarn Store Day! We participate in national LYS day every year. It is a day that designers, dyers, and stores work together to support our community of yarn lovers and fiber friends! We will have treats and prize drawings!



We will have some exclusive LYS Day kits available, codes for free patterns with purchase of yarn, and restocks on the way from Primrose, Knitting Barber, and more! We hope you join us in celebrating your favorite LYS!

--------------------------------

As promised after Shop Hop, we wanted to continue introducing our new owners. This week is Stephanie's turn to share a little bit more about herself.


Stephanie grew up and has lived most of her life in Central Minnesota. She worked as a Mechanical Engineer for 11+ years before going back to school for a masters degree in Marriage and Family Therapy. She is excited to graduate next week and continue working as a therapist in her community!


Stephanie enjoys traveling abroad, playing and snuggling with her dogs, being out on the water (swimming, kayaking, boating), vegetable gardening and canning, and of course knitting. ;)


Stephanie learned to knit in an after school club in high school. After knitting many squares and rectangles throughout college, she discovered Amazing Threads a few years later and became a loyal customer and student in 2014. Her knitting abilities and confidence grew through classes and the supportive community at AT and she began working at the shop in 2018.




Her favorite project she has made is actually currently on the needles - the Shifty Sweater in White Gum Wool 4ply and Primrose Homestead Sport.

The "Building" series of books from Knit Purl Hunter are now available. Learn stitches and techniques with easy to read instructions and links to video tutorials while knitting a blanket. Building Blocks, Building in Color, and Building with Lace.

Friday Night Stitching is a fun way to see all of the great projects people are working on!
Michelle L finished knitting the French Macaroon sweater in Sirdar Country Classic and Sirdar Hayfield Blossom.

The next Works-in-Progress class is next week! Join Suzanne on May 3rd and we'll get you unstuck from your project!




The next Learn to Knit class begins May 11!
Stephanie is teaching the Bynx Cowl class beginning on May 6th!




Only ONE SPOT remains in Suzanne's
Nordiska Sweater
class beginning May 10th. The restock of Illimani Sabri would be a perfect cotton yarn option for this sweater!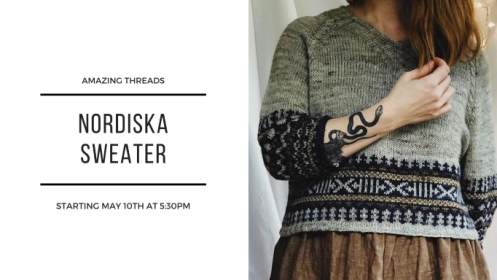 Be sure to register for Friday Night Stitching on May 19th! Join Derek and Stephanie for a fun evening with food and prizes!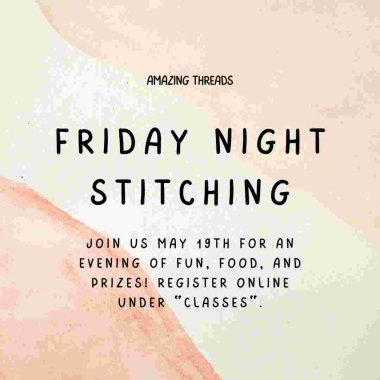 REGISTER FOR CLASSES HERE
W
e have social stitching every week on Tuesdays, both in the morning and evening. Join us Tuesday mornings from 11:00AM-1:00PM or Tuesday nights from 5:00PM-7:00PM. Free with Knit Club membership!
---

Like Us

763-391-7700




11262 86th Avenue North




Maple Grove, MN 55369