Little Rowan Blossom
by Rowan
UPC:
9781910339299
Manufacturer #:
ZB203
Little
"Rowan"
Blossom: Blossom is a collection of 15 designs for girls aged between 2 and 7. Worked in DK and 4 ply weights it features cardigans and sweaters with pretty lace details, crochet bags and blankets. It features designs suitable for all levels
$20.00
Rowan Magazine 64
by Rowan
UPC:
9772045340151
Manufacturer #:
ZM64
"Rowan"
Knitting & Crochet Magazine 64, celebrating 40 years of
"Rowan"
! This special anniversary edition features two design stories, Ruby and Alpaca Classic. Ruby is a collection of 20 designs by iconic knitwear designers, the inspiration is simply
"Rowan"
?s
$31.75
Rowan Baby Knits
by Rowan
UPC:
4053859229999
Manufacturer #:
ZB233
Baby Knits Collection from Quail Studio (ZB233) ?a collection of 11 simple baby knitted garments perfect for any new addition to the family. Using a contemporary neutral colour pallet that gives a unisex appeal to the designs. Clean simple garments with
$18.00
Rowan Kaffe's Colours
by Rowan
UPC:
4053859247993
Manufacturer #:
ZB245
Kaffe's Colors: A collection of seven designs by Kaffe Fassett using his Felted Tweed new colors for Autumn Winter especially selected by Kaffe. This collection is a celebration of color with Kaffe?s signature style.
$18.50
Rowan Magazine 63
by Rowan
UPC:
9772045340144
Manufacturer #:
ZM63
"Rowan"
Knitting and Crochet Magazine No. 63 (ZM63) contains 39 new patterns. Features 2 Stories: Modern Nomad & Willow.
$28.50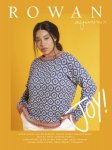 Rowan Magazine 69
by Rowan
UPC:
9772045340205
Manufacturer #:
ZM69
The Nostalgic Style collection for men and women re-visits 1950s, adding a playful, modern twist. Martin Storey's exquisite Cotton Classic collection for women blends comfort and wearability with understated luxury.
$28.95
Rowan Cotton Cashmere Yarn
by Rowan
UPCs:
4053859232418, 4053859232425, ...
Manufacturer #s:
M536-0210, M536-0211, ...
"Rowan"
Cotton Cashmere is a dream come true for warm weather knit and crochet projects! The durability and strength of cotton merges seamlessly with the softness of cashmere for a lightweight yarn that you?ll want to make everything out of. Shawls, t-shirt
$15.00