Results 1 - 8 of 8 for anzula breeze
Anzula Breeze Lace Yarn
by Anzula
UPCs:
400100797754, 400100797761, ...
Manufacturer #s:
B-Charcoal, B-Poppy, ...
Anzula Breeze rustic and elegant. A gorgeous laceweight blend of silk and linen.
$37.00
Anzula Katara Yarn
by Anzula
Manufacturer #s:
KAT-1 Red, KAT-Au Natural, ...
Anzula Katara is a blend of Superwash Merino & Yak that results in an exquisite new yarn. Katara is a sumptuously soft and squishy yarn. We use a brown yak fiber so the yarn takes the color darker than our other yarns
$33.00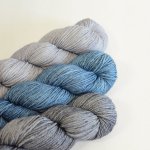 Anzula Serenity Yarn
by Anzula
Manufacturer #s:
S-Mariana, S-Hippo, ...
Anzula's New Serenity is 100% cashmere yarn. Its a beautiful knit and wonderful yarn..Of course it's Cashmere
$48.00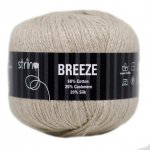 String Breeze Yarn
by String@
Manufacturer #s:
StrBrz-400002, StrBrz-200073, ...
String Breeze ios a light worsted weight yarn in a cashmere, silk, & cotton blend. Perfect for any season.
$24.00
Laine Magazine Issue 11
by Laine
Manufacturer #:
Laine-11
This issue is like a fresh gentle
"breeze"
after a long winter season with 11 knitting patterns, interesting article, recipes inspired by Italian summer days, book reviews, and more.
$32.00
Modern Daily Knitting Field Guides
by Modern Daily Knitting
UPCs:
9780997786552, 9780997786569, ...
Manufacturer #s:
W18FG06991, W18FG07991, ...
Mason Dixon Knitting has developed Little books that explore the big world of knitting. It's the series that is captivating knitters all over. Start your collection now.
$15.50 - $17.00
Six and Seven Fiber Alfalfa MCN Yarn
by Six and Seven Fiber
Manufacturer #s:
Al-BosumFriend, Al-LakeOfShining, ...
Six and Seven Fibers Alfalfa Yarn is a combination of SW Merino, Cashmere & Nylon. Marrying artful color and affordable luxury is what Rachel strives for in her Colorado studio for Six and Seven Fibers.
$32.50 - $35.50