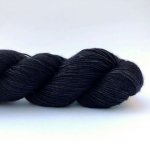 Artfil Chalet Yarn
by Artfil
Manufacturer #s:
C-Kayak, C-Quai, ...
Chalet is an artisanal
"yarn"
, spun in small batches. It has charming little imperfections that highlight its unique nature. We think that its imperfections make it perfect. The word Chalet is the french word for Cabin, a small cottage usually in the woods
$16.50
Artfil Sweater Yarn
by Artfil
Manufacturer #s:
SWEATER-PurpleRain, SWEATER-Onyx, ...
Sweater is 100% Extra-Fine Merino wool boasting 220 yards per 100 gram skein Heavenly soft, warm and squishy! Our pure worsted weight
"yarn"
is all you need for cozy garments. We use the finest and most dificult to spin wool in this fairy tale of the
"yarn"
s
$28.00
Artfil Belle Hand Painted Fingering Weight Yarn
by Artfil
UPCs:
536259867700, 536259867701, ...
Manufacturer #s:
B-0000N, B-MC-WS, ...
Artfil's Belle Yarn is the perfect sock blend with 80% super wash merino wool and 20% nylon. The
"yarn"
features an unusual two-steps twist and it is 8-ply fingering for both knitting and crochet.
$26.00
Amazing DK - Our Exclusive Luxury Yarn
by Artfil
UPCs:
200100356985, 200100356989, ...
Manufacturer #s:
ADK-102, ADK-108, ...
Amazing DK
"yarn"
is exclusive to Amazing Threads. This luxury blend of cashmere (15% ) and superwash Merino (85%) is the perfect LUXURY Yarn. Each skein boasts 250 yards of hand dyed
"yarn"
made in the USA.
$35.00 - $37.00
Malabrigo Verano Yarn
by Malabrigo
Manufacturer #s:
VNO195, VNO901, ...
A plant based
"yarn"
of 100% Pima cotton. Its softness, strength, and shine are perfect for both warmer weather and those in between times where you just need a little something.
$15.50
Shibui Pebble Yarn
by Shibui
UPCs:
400100765159, 400100778494, ...
Manufacturer #s:
PB2001, PB115, ...
A trio of favorite fibers, cashmere, fine merino, and recycled silk, unite to create a tweedy melange in new lace-weight Pebble.
$19.50
Sirdar Elemental Yarn
by Sirdar
UPCs:
5054714383008, 5054714383015, ...
Manufacturer #s:
F238-0300, F238-0301, ...
The soft fibers of Sirdar Elemental are spun with a precious metallic strand into a quick-knit
"yarn"
that?s ideal for beginners. The thick/thin effect creates an interesting texture from simple stitches, perfect for disguising uneven knitting.
$7.50
Malabrigo Washted Yarn
by Malabrigo
Manufacturer #s:
WD139, WD416, ...
Malabrigo's newest
"yarn"
WASHTED is 100% Merino Wool Superwash
"yarn"
in semi-solid and variegated colors is a scrumptious new single ply
"yarn"
.
$16.00