String@ Amalfi Yarn
by String@
Manufacturer #s:
Amal-728332, Amal-515752, ...
String Amalfi Yarn is A lofty and light DK-weight yarn perfect for trans-seasonal garments. This blend of cashmere is incredibly soft while still light enough for warmer weather.
$24.00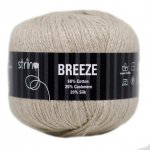 String Breeze Yarn
by String@
Manufacturer #s:
StrBrz-400002, StrBrz-200073, ...
String Breeze ios a light worsted weight yarn in a cashmere, silk, & cotton blend. Perfect for any season.
$24.00
String @ Yarns Chantilly
by String@
Manufacturer #s:
5124952a, 514956, ...
Chantilly is new to the String
"@"
family of luxury cashmere and cashmere blend yarns. Chantilly is 70% Extra Fine Lambswool & 30% Cashmere.
$27.50
String Yarns Dolcetto DK
by String
Manufacturer #s:
DODK-100002, DODK-200007, ...
String Dolcetto DK: The lighter version of our best-selling cashmere blend, Dolcetto. This blend of 30% cashmere and 70% merino is wonderfully versatile. A luxury option for any DK-weight pattern.
$28.00
String@ Yarns Dolcetto Yarn
by String@
UPCs:
70030040003, 70030040073, ...
Manufacturer #s:
D400003, D2000073, ...
String
"@"
Dolcetto is a brushed look worsted weight yarn in heathered naturals and solid colors. Dolcetto's combination of 30% Cashmere & 70% Merino Wool make it a luxurious knit! Perfect for fabulous accessories that feel fabulous.
$24.00
String@ Yarns Classica Worsted Cashmere Yarn
by String@
UPCs:
400200200073, 400200201227, ...
Manufacturer #s:
C200073, C201227, ...
String
"@"
Classica Worsted is 100% luxury Cashmere. This Classica Cashmere was developed exclusively for String Yarns and is now also available at a limited number of String
"@"
stores. Perfect for hand knitting luxury garments and accessories. Only the bes
$52.00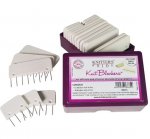 Knitter's Pride Knit Blockers
by Knitter's Pride
UPCs:
8904086268854, 8907628004156
Manufacturer #s:
IIA-8415, IIA-8417
Anchor holes in each blocker allow you to attach
"string"
along large sections which can be pulled and pinned to maintain consistent tension. The Knit Blockers are made using strong plastic with sharp, sturdy & rust resistant stainless steel pins in two siz
$30.00
Clubs
Amazing Threads Knit Club members receive one a gift for joining and renewing: Yearly membership is $50 and includes: Free pattern of the quarter 15%-20% discount on yarn for project of the month Free attendance at one social knitting event per week (held Tuesday mornings from 11AM-1PM or Tuesday evenings from 5PM-7PM). Pre-sale shoppin....
Contact Us
Address 11262 86th Ave North Maple Grove, MN 55369 Phone (763) 391-7700 Email info@amazing-threads.com Hours Monday 10am to 8pmTuesday 10am to 8pmWednesday 10am to 8pmThursday 10am to 8pmFriday 10am to 5pmSaturday 10am to 5pmSunday 12pm to 4pm