Sweet Georgia Tough Love Sock Yarn
by Sweet Georgia
Manufacturer #s:
TLS-Birch, TLS-Silver, ...
A perfect blend of warmth and strength to make a hardwearing sock yarn that can stand up to your affection and abuse. Knits up beautifully into fine-gauge sweaters, small shawls, as well as socks!
$30.50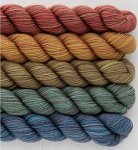 Sweet Georgia Party of Five Tough Sock Yarn
by Sweet Georgia
Manufacturer #s:
P5-Blazing Trails, P5-Frozen Blueberry, ...
Each Party of Five set contains five 105-yard, hand-dyed mini skeins in Tough Love Sock yarn . It is the perfect amount for shawls, cowls, scarves, and even the colourwork section of your favourite yoked sweater pattern.
$45.50
Sweet Pickles by Anna Enge and Heidi Gronvold
by Martingale
UPC:
9781604687576
Manufacturer #:
744527113637
Sweet Pickles: 27 Adorable Knits for Babies and Toddlers Norwegian knitwear designers and yarn aficionados Anna Enge and Heidi Grønvold showcase their sophisticated, modern patterns for babies and toddlers, fresh from their Pickles yarn shop in Oslo, No
$24.99
Rowan New Vintage DK
by Rowan
UPC:
4053859247931
Manufacturer #:
ZB239
New Vintage DK is a collection of 14 designs inspired by classic cables, geometric pattern and lace work. Designed by Lisa Richardson, Martin Storey, Sarah Hatton, Vibe Ulrik, Georgia Farrell and Quail Studio using Felted Tweed, Alpaca Soft DK , Softyak D
$18.50
Plymouth Soft Serve Yarn
by Plymouth Yarn Company
UPCs:
843273056158, 843273056165, ...
Manufacturer #s:
06560600, 06560601, ...
Get ready for a
"sweet"
treat! Soft Serve is a whipped confection truly deserving of its
"sweet"
name, this 100% anti-pill acrylic yarn is smooth, silky and just perfect for next to skin wear.
$8.50
Hope by Kim Hargreaves
by Rowan
UPC:
9781906487416
Manufacturer #:
RB66
This collection, made with
"love"
, features twelve cozy and comforting designs knitted in heart-warming shades to lift the spirits and spread joy.
$25.95