Plymouth Encore Tweed Yarn
by Plymouth Yarn Company
UPCs:
843273005170, 843273015223, ...
Manufacturer #s:
6231363, T217, ...
Encore Tweed by Plymouth is a classic acrylic and wool blend yarn with a touch of rayon. It is machine washable and has 200 yards per skein which makes it a great yarn for hats scarves and sweaters!
$7.50
Kata LIno Linen Yarn
by Katia
UPCs:
8435074654064, 8435074654071, ...
Manufacturer #s:
LINO-03, LINO-07, ...
Katia Lino Yarn 100% is an all-linen yarn in a fingering weight. Lino 100% has 3 plies and is the perfect choice for summer projects like tops, shawls, light sweaters, bags and accessories. Lino 100% will soften up with each washing, and it is machine-was
$9.50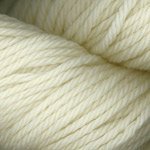 Plymouth Chunky Merino Superwash Yarn
by Plymouth Yarn Company
UPCs:
843273047767, 843273047774, ...
Manufacturer #s:
05870100, 05870101, ...
Plymouth Chunky Superwash Merino is great all-purpose bulky-weight yarn made of 100% machine-washable soft merino wool.
$16.50
Ella Rae Phoenix Worsted Yarn
by Ella Rae
UPCs:
843189046663, 843189046670, ...
Manufacturer #s:
PHX-02, PHX-03, ...
Ella Rae Phoenix yarn is made from 100% Egyptian Cotton. Phoenix is a worsted weight that's sturdy enough for things like knitting market bags, yet soft enough for garments. You will get nice stitch definition with the cable construction ply.
$12.50
Dragonfly Fibers Find Your Fade Shawl Kit
by Dragonfly Fiber
UPCs:
500400130001, 500400130002, ...
Manufacturer #s:
KIT362A, KIT362B, ...
This super fun shawl by Andrea Mowry is knit in seven graduated colors in a beautiful organic shape. Dragonfly Fibers has put together 4 kits that are simply scrumptious
$124.00
Plymouth Nako Elit Baby Muare Yarn
by Plymouth Yarn Company
UPCs:
8681213011827, 8681213011834, ...
Manufacturer #s:
06571701, 06571702, ...
Nako Elit Baby Muare: This new baby yarn isn't just any baby yarn- it is 100% Premium Anti-Pill Acrylic. This means a baby or kids garment will look virtually new for many years. The color effect is much like a mirage where your eye may see patterning
$6.50
Rowan Felted Tweed DK Yarn
by Rowan
UPCs:
5013712967542, 4082700990610, ...
Manufacturer #s:
M526-0161, M526-0185, ...
Felted Tweed is a beautiful blend of 50% merino wool, 25% alpaca and 25% viscose. The yarn has a beautiful tweed effect, perfect for fairisles, striping and other colour work and is the obvious choice for winter projects. The rustic colour palette makes
$13.50
Malabrigo Washted Yarn
by Malabrigo
Manufacturer #s:
WD416, W850, ...
Malabrigo's newest yarn WASHTED is 100% Merino Wool Superwash yarn in semi-solid and variegated colors is a scrumptious new single ply yarn.
$16.00