Skip Navigation
Website Accessibility
Cocoknits Colorful Magnet Set
by Cocoknits
Manufacturer #:
CK-Colorful Magnet
Designed to be used with the Cocoknits Maker's Board, this Colorful Magnet set is made from plastic-free PLA (plant fiber) and very strong magnets, strong enough that both the front and back will work.
$12.50
Cocoknits Fuzz Off Comb
by Cocoknits
Manufacturer #:
CK-Fuzz Off Comb
Keep your garments looking fresh with the Fuzz Off Comb. It efficiently picks up troublesome pills and fiber fuzz build-up. Simply shave the fuzz off of your handmade or store-bought knits, wool garments, workout clothes, and more!
$25.50
Cocoknits Triangle Stitch Markers
by Cocoknits
Manufacturer #s:
CK- Tri Earth, CK-Tri Sm Black White
Triangle stitch markers that will stick up from the work so its easy to get the needle tip into the corner for transferring to the other needle.
$9.50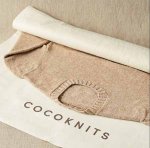 Cocoknits Super-Absorbent Towel
by Cocoknits
Manufacturer #:
CK-Towel
A Super-Absorbent Towel speeds up the process of drying hand washables by absorbing excess water from your garment before air drying. Made from a lightweight felt-like cloth, it soaks up much more water than a regular bath towel.
$26.00
Cocoknits Curved Cable Needles
by Cocoknits
Manufacturer #:
CK-Curved Cable
Nickel plated steel needle with a dip in the middle for holding stitches while working a cable. Sold in packs of 2.
$6.50
Cocoknits Flight of Stitch Markers
by Cocoknits
Manufacturer #:
CK-Flight Stitch
For anyone who is not sure which style of Cocoknits stitch marker to try first, here is a handy sampling. Just like a wine or craft beer tasting 'flight', their Flight of Stitch Markers offers a wide variety of styles and sizes to experiment with!
$25.00
Cocoknits Colorful Opening Stitch Markers
Manufacturer #:
CK-Colorful Opening SM
An offshoot of the Colorful Ring Stitch Markers the thin metal keeps them flexible as a safety pin™ style marker, and since they are steel they cling to the Maker's Keep or any magnet.
$10.00