della Q Maker's Canvas Cubbies
by della Q
UPCs:
655471507321, 655471951933, ...
Manufacturer #s:
DQMCubbiesBlack, DQMCubbiesBlue, ...
Canvas Cubbies are collapsible and used to store yarn, small projects, knick-knacks, and notions.
$30.00
Juniper Moon Cumulus Patterns
by Juniper Moon
UPCs:
841275169036, 841275169043, ...
Manufacturer #s:
K-J125-01, K-J125-02, ...
Patterns that use Juniper Moon Cumulus.
$6.50
Cocoknits Sweater Care Brush
by Cocoknits
Manufacturer #:
CK - Sweater Care Brush
The Sweater Care Brush allows you to refresh and rejuvenate your textiles so they look their best and last for years. Not only does it depill and fluff up mohair and alpaca, it removes lint and other fibers from clothing and household fabrics.
$16.00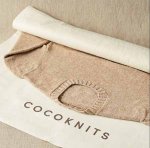 Cocoknits Super-Absorbent Towel
by Cocoknits
Manufacturer #:
CK-Towel
A Super-Absorbent Towel speeds up the process of drying hand washables by absorbing excess water from your garment before air drying. Made from a lightweight felt-like cloth, it soaks up much more water than a regular bath towel.
$26.00