Plymouth Moon Shadow Yarn
by Plymouth Yarn Company
UPCs:
843273052914, 843273052945, ...
Manufacturer #s:
07300001, 07300002, ...
Moon Shadow Yarn is a buttery-soft worsted weight blend of 68% Baby Alpaca and 32% Organic Pima Cotton, is micro chained into an ultralight yarn whose stitches just melt into place. A truly superior yarn.
$11.50
Rowan Magazine 69
by Rowan
UPC:
9772045340205
Manufacturer #:
ZM69
The Nostalgic Style collection for men and women re-visits 1950s, adding a playful, modern twist. Martin Storey's exquisite Cotton Classic collection for women blends comfort and wearability with understated luxury.
$28.95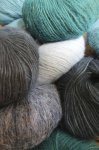 Rowan Alpaca Classic Yarn
by Rowan
UPCs:
4053859254151, 4053859254168, ...
Manufacturer #s:
M540-0101, M540-0102, ...
Alpaca Classic from Rowan is a blend of superfine alpaca and
"cotton"
that provides you the best of both worlds! With a chainette construction, you?re create light and airy scarves, shawls and sweaters that are seasonless.
$10.75
Cascade Yarns Fixation Solids Yarn
by Cascade Yarns
UPCs:
886904042397, 886904042502, ...
Manufacturer #s:
0600-2625, 0600-5806, ...
Fixation Solid Colors by Cascade Yarns. Fixation is
"cotton"
with a little bit of elastic. Perfect for socks hats and more.
$6.50
Plymouth Pima Rino Yarn
by Plymouth Yarn Company
UPCs:
843273050309, 843273050316, ...
Manufacturer #s:
07150001, 07150002, ...
Pima Rino is the marriage of the finest Peruvian pima
"cotton"
and fine merino wool. This 4-season yarn is destined to become a basic for everything from luscious accessories to exceptional sweaters.
$7.50
Cascade FIxation Splash Yarn
by Cascade
UPCs:
886904059135, 886904059142, ...
Manufacturer #s:
0605-101, 0605-102, ...
Fixation Splash Yarn is the newest edition to our Fixation yarn with a multicolored speckled effect. This stretchy yarn is fun to knit and works great with swimsuits or other stretchy garments where stretch is required.
$7.00
Jocelyn Pullover & Eva Cardigan Patterns knit in Sesia Elegant
by Tahki Stacy Charles
Manufacturer #s:
Eva Cardi, Jocelyn Pullover
Jocelyn Pullover is a stylish women?s sweater worked in an allover wave lace pattern. Knit in ELEGANT, this gorgeous pullover is knit in one piece from sleeve to sleeve. Sesia Eva is a classic open-front cardigan perfect for cool spring days.
$6.00