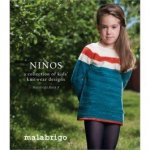 Malabrigo Book 9: Ninos
by Malabrigo
UPC:
400100999999
Manufacturer #:
I-LA-99HG-2
Ma
"la"
brigo Book 9 - Ninos a collection of kids' knitwear designs. Features adorable patterns using Ma
"la"
brigo Arroyo, Mecha, Rios, Chunky, Rasta, and Sock. Over 18 stylish patterns for any boy or girl!
$20.50
Knitting Outside the Box - Drape & Fold by Bristol Ivy
by Pom Pom Publishing
UPC:
9781916029514
Manufacturer #:
KOB: Drape & Fold
From the needles of influential designer Bristol Ivy comes the follow-up collection to her 2017 title Knitting Outside Box. This complementary edition of six knitting patterns delves deeper into innovative ways of working with knitted fabric by exploring
$28.00
Baah Yarn Mammoth
by Baah Yarns
Manufacturer #s:
BM-Champagne, BM-Gold Digger, ...
A new super bulky yarn from Baah! 100% superwash merino. Great for hats and cowls!
$33.00
Baah Sonoma Yarn
by Baah Yarns
UPCs:
400100750957, 400100815625, ...
Manufacturer #s:
Son-Tequila Lime, Son-Pink Tourmaline, ...
Baah Sonoma: Sonoma is a beautiful DK weight yarn hand-painted using the same
"la"
yering techniques found in watercolor and oil paintings creating a range in depth and color that is sure to take your breath away! Made from 100% superwash merino wool thi
$31.50
Tuesday Night Social Knit & Crochet
| | |
| --- | --- |
| January 25,2022 - | Enjoy a couple of hours of social knitting or crochet with those who share your passion. Held weekly from 5:00-7:00PM in our large, upstairs classroom. |