Rowan Felted Tweed Aran Yarn
UPCs:
4053859181068, 5013712535611, ...
Manufacturer #s:
M501-0719, M501-0732, ...
Rowan Felted Tweed Aran yarn is the big sister to classic Felted Tweed DK, this rustic aran weight yarn is available in a range of classic colors and is a beautiful choice for cozy winter
"knits"
. The complimentary colors sit perfectly together in stripes o
$13.50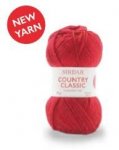 Sirdar Country Classic Yarn
by Sirdar
UPCs:
5054714358501, 5054714358518, ...
Manufacturer #s:
F235-0850, F235-0851, ...
Country Classic is a Sirdar family favorite made even softer. The 50/50 blend of pure wool and acrylic is even more comfortable to wear, and 24 inspired-by-nature shades offer great stitch definition to showcase your skills with stylish
"knits"
.
$6.00
Shibui Cima Yarn
by Shibui
UPCs:
400100771181, 400100764176, ...
Manufacturer #s:
C2011, C2003, ...
Cima by Shibui Knits
$15.50
Sweet Pickles by Anna Enge and Heidi Gronvold
by Martingale
UPC:
9781604687576
Manufacturer #:
744527113637
Sweet Pickles: 27 Adorable Knits for Babies and Toddlers Norwegian knitwear designers and yarn aficionados Anna Enge and Heidi Grønvold showcase their sophisticated, modern patterns for babies and toddlers, fresh from their Pickles yarn shop in Oslo, No
$24.99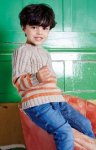 Rowan Little Dudes by Martin Storey
by Rowan
UPC:
4053859229968
Manufacturer #:
ZM230
Rowan Little Dudes includes 11 designs for children aged three to eight years old, from vests to jumpers ? all with fun, unique details that will set them apart. The yarns required for these patterns included Original Denim, Softyak DK and Handknit Cotto
$18.00
Qing Fibres Melted Baby Suri Yarn
by Qing
Manufacturer #s:
MBS-Soft Lemon, MBS-Flaming, ...
Qing Fibres Melted Baby Suri is a
"lux"
urious blast of texture and color. Fabulously Soft, and deliciously hazy.
$31.50
Shibui Tweed Silk Cloud Yarn
Manufacturer #s:
TSC-2001, TSC-2003, ...
Tweed Silk Cloud is a combination of silk and kid mohair which is combined for a subtle, graceful take on a tweed yarn. It comes in 12 colors. Knit it alone or in combination with other yarns for a fabulous knit.
$16.88
Schachenmayr Regia 6 Ply Sock Yarn
by Schachenmayr
UPCs:
4053859215749, 4053859277259, ...
Manufacturer #s:
M300-2794, M300-6790, ...
This 75% wool, 25% polyamide blend in Regia 6 Ply Color is perfect for hardwearing socks! 150g balls you will be able to make one large pair of socks in a gorgeous range of self patterning shades.
$19.75
Julie Hoover Shibui Nest Yarn
by Shibui
Manufacturer #s:
JH 2206N, JH 2208N, ...
Julie Hoover brings her eye for color to Shibui nest yarn, a 75% fine merino yarn and 25% alpaca. A soft inner core of luscious wool and alpaca wrapped in contrasting strands of fine wool, Nest embodies coziness.
$22.00
Shibui Silk Cloud Mohair & Silk Yarn
by Shibui
UPCs:
400100764053, 400100731475, ...
Manufacturer #s:
SC2001, SC103, ...
Silk Cloud by Shibui shines through a halo of translucent mohair giving anything you make amazing stitch definition and drape.
$18.38