Rowan Kid Classic Yarn
by Rowan
UPCs:
5013712913587, 4053859002202, ...
Manufacturer #s:
M527-0828, M527-0888, ...
Rowan Kid Classic is a mohair blend with a delightful fuzziness, soft hand, and just enough nylon for durability. The wool gives stitch structure and warmth, but we recommend simple stitch patterns with Kid Classic to make sure your work isn't lost in the
$13.00
Plymouth Fantasy Naturale Yarn
by Plymouth Yarn Company
UPCs:
400100557556, 400100557563, ...
Manufacturer #s:
6151404, 6152550, ...
Fantasy Naturale by Plymouth Yarns is a 100% mercerized cotton in Aran Weight.
$9.50
Hikoo Kenzie Yarn
by HiKoo
UPCs:
400100793183, 400100793244, ...
Manufacturer #s:
4803771000, 4803771001, ...
HyKoo Kenzie is a perfect tweed comprised of New Zealand Merino, Angora & Alpaca that creates a luscious fabric when knit.
$6.72 - $10.50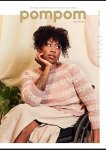 PomPom Quarterly Issue 32: Spring 2020
by Pom Pom Quarterly
UPC:
9772052010016
Manufacturer #:
PP-32
Spring is just around the corner to reinvigorate us with longer days and buds bursting forth. We?re welcoming sweet spring breezes with our first theme of the new decade ? air. This precious and fragile element unites us, and our designers translated thi
$19.50
Shibui Echo Yarn
by Shibui
Manufacturer #s:
ECHO-2181, ECHO-2018, ...
Echo by Shibui yarns is a dk weight blend of Silk and Merino. The 2 distinct plies of silk noil blend with a light, airy merino creating a subtle halo and lofty fabric.
$18.50
Debbie Bliss Falklands Aran Yarn
by Debbie BLiss
UPCs:
8320980640013, 8320980640020, ...
Manufacturer #s:
FALKA-01, FALKA-02, ...
Debbie Bliss Falklands Aran: Debbie Bliss Falkland Aran is a 100% extrafine Merino wool organically farmed on the Falkland Islands and spun in Yorkshire. This exquisite worsted weight yarn exhibits a gorgeous twist and an ever-so-slight sheen.
$15.90
Mason -Dixon Knitting Field Guides
by Mason Dixon Knitting
UPCs:
9780997786552, 9780997786569, ...
Manufacturer #s:
W18FG06991, W18FG07991, ...
Mason Dixon Knitting has developed Little books that explore the big world of knitting. It's the series that is captivating knitters all over. Start your collection now.
$15.50
Rowan Island Blend Yarn
by Rowan
UPCs:
4053859305266, 4053859305273, ...
Manufacturer #s:
M550-0900, M550-0901, ...
Rowan Island Blend yarn is a fabulous blend of Falkland Island wool, Baby Alpaca and Silk. This premium yarn is a gem to knit and the resulting fabric is spectacular. The Falkland Islands is considered to be a superior wool producer and produces some of
$24.50
Blue Sky Fibers Spud & Chloe Sweater Worsted Yarn
by Blue Sky Fibers
Manufacturer #s:
BSF-7500, BSF-7501, ...
Spud & Chloe Sweater Yarn is made of wool and organic cotton. Spud & Chlo? Sweater is a worsted weight that is perfect for everyone! Spud & Chlo? Sweater is great for more than just sweaters too! Accessories and projects for kids look amazing in the grea
$18.00