La Bien Aimee Super Sock Yarn
by La Bien Aimee
Manufacturer #s:
LBASS-Bois de Rose, LBASS-Cassiopeia, ...
La Bien Aimee Merino Super Sock is a soft, smooth and sturdy sock yarn that will be equally great for socks, garments, and accessories.
$36.25
Artfil Sofia Silk Yarn
by Artfil
Have you had the chance to knit with pure silk? This yarn is luxury and delicious, totally allergy free and so silky to touch. Indulge your stash with Sofia, delightful 100% Mulberry silk.
$39.00
Life in the Long Grass Singles Yarn
by Life in the Long Grass
Manufacturer #s:
LITLGS-Blue Dusk, LITLGS-Uisca, ...
A soft, single ply yarn with a slick sheen always wonderful in shawls and gives a little luxury to sweaters.
$30.50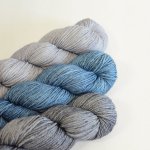 Anzula Serenity Yarn
by Anzula
Manufacturer #s:
S-Mariana, S-Hippo, ...
Anzula's New Serenity is 100% cashmere yarn. Its a beautiful knit and wonderful yarn..Of course it's Cashmere
$48.00
The Farmers Daughter Fibers Foxy Lady Yarn
by The Farmers Daughter
Manufacturer #s:
FL-Ode to Autumn, FL-Hill Country, ...
Foxy Lady is a strong, springy superwash merino combining 30% silk into a single construction. Just the right amount of silk to give a beautiful sheen and drape but not enough to pull or pill.
$31.00
Sirdar Snuggly 4-ply 100 gram Yarn
by Sirdar
UPC:
5024723832514
Manufacturer #:
00251
Sirdar Snuggly 4 Ply 100 gram skeins. The well-known Sirdar Snuggly 4 Ply is washable, non-irritating and easy to work with, making it just right for those little baby clothes. - Soft to wear and easy-care, perfect for all your baby knitting.
$10.20
Blue Sky Fibers Woolstok Light Yarn
by Blue Sky Fibers
Manufacturer #s:
BSF-2300, BSF-2301, ...
Woolstok Light is soft and lofty with beautiful stitch definition. This single ply yarn is made from 100% fine highland wool.
$10.25
White Gum Wool 4-Ply Yarn
by White Gum Wool
UPCs:
400100814635, 400100814642, ...
Manufacturer #s:
SQ5775786, SQ1672888, ...
White Gum Wool 4 ply Yarn White Gum Wool yarns are made from 17-micron superfine "Saxon" merino wool. This is the calibre of wool used in the finest of Italian men's suiting and gives an amazing softness and handle to the yarn.
$24.50
Malabrigo Finito Yarn
by Malabrigo
Manufacturer #s:
FIN726, FIN727, ...
Finito is a special treat indeed - Malabrigo Finito The luxurious Malabrigo Finito comes from the finest Uruguay wool available and only comes to market once a year in limited quantities. Gloriously soft and beautifully hand dyed, Finito is truly one of
$16.50