Skip Navigation
Website Accessibility
Gold Tip Interchangeable Needle Set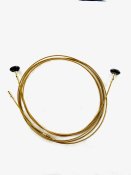 Experience total knitting luxury with GT Needles. The longer length of the needle promotes ergonomic knitting regardless of the type of knitting.
The join between the needle and cable are the smoothest you will ever experience. View Brioche & Brews Review of these fabulous needles
Each needle has the US and MM size engraved on the metal needle. It will not wear off.

Set contains:
10 pairs of original styled knitting needles each measuring 6" in length. 1 pair of each size from US 2 through US 10 including US 2.5 (2.75 mm- 6 mm)

4 golden braided cords ranging in size from 24" to 50"

2 cord caps

1 cord key

luxury leather case
Additional cords are also available and addition needle tips will be available soon!